Below is caption on these pictures please scroll down to read them.  Thank you.

Use the navigation box at the upper left to go to a different page.  Thank you.

Photo 1. Ken Gehret  Composer and Performer -

Ken has performed , composed and arranged Jazz, Classical, BlueGrass, Pop/Rock, World Music and Film Music.

Photo 2. Ken Gehret  performs at the "PAL Center"

Reading Pennsylvania.  " Living Room Sessions"

Photo 3. Ken Gehrets Design 10 String Guitar-

  A unique blend of multi - strings and original sound.

  Photo 4. Hosted By The Great Historical Bums-       Mike Henry(Guitar), Ken Gehret ( Violin) and  Jeanne Saulnier ( Narrator). A whirlwind tour of our                      nation's history through story and song. 

                                 Larger View Of Info

                        Please click on to read

   "My country 'Tis of thee" Is an educational program

Providing services in the area of  Eastern Pennsylvania.

Contacting Information is located below at photo 4.

                                    Thank you.

Contact - Mike Henry

The Great Historical Bums

957 Woodridge Blvd.

Lancaster, Pa 17601-2265

e-mail address- historybum@aol.com

717-392-5956

(Creative School Assemblies Community Groups Family Entertainment)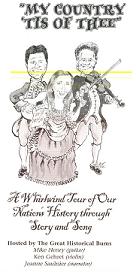 ~"To Touch The mind of  a child is a priceless thing"~

                                  ~ Annette Sowers~

"The Great Historical Bums"

  Entertain children at the 

   Epharta Public Library

"The Great Historical Bums"

  Entertain children at the 

   Epharta Public Library